BROKEN HILL BLOG
One of Australia's finest towns – that's my feeling about Broken Hill. It was my fourth trip there, and I'd loved it every previous one, so I knew in advance it was gonna be a highlight of the year.
It's the combination of being a frontier town, with its desert scenery [like Alice], which in turn supports a strong art community. Like Alice, you drive 5k from town and everywhere you look the scene is a painting waiting to be painted.
I was there to sing at the opening of a new pavilion at the racecourse. My company was Ange and my treasured 89 yr old Uncle Nev, a true Aussie legend. He just wanted to come, so he flew up from Adelaide with us, to my great delight, as I adore him.
We had the great fortune to stay in a done-up original miner's cottage. What a piece of history.
Never seen a town that makes you want to stare at the buildings so much. There were 30,000 people there 100 years ago, so the town is bursting with old homes and civic buildings.
After doing the customary tour of Silverton, abandoned mining town of olden times, our other free day was spent on a pilgrimmage to sit On The Shores Of Lake Menindee. I liked that phrase so it's now on the list as a potential song title. That was about the highlight of ther trip: sitting by that huge inland freshwater lake, with its Burke & Wills history etc.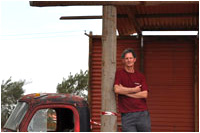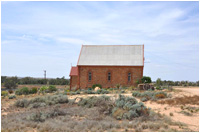 FLOWERDALE – April 9, 2011:
Flowerdale is one of those towns you may hear about a lot but never actually go there.
I for one, had never been there, until receiving an invitation to come and sing in the local hall.
Flowerdale is aronud 30K from Kinglake, and roughly the same from Whittlesea.
It's set among beautiful forest, and not on any main road.
Sadly it's on the map now for all the wrong reasons: it was partially wiped out on Black Saturday.
The town lost eight people.
Meeting the locals was a true delight.  The Primary School choir performed to start the evening.
Flowerdale certainly has its share of colourful characters, and i was a little amazed at the affection expressed for the Coodabeens, and at one fella who likes certain obscure songs
of mine that I hadn't thought of for years.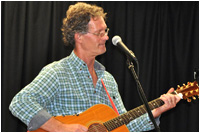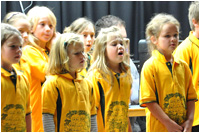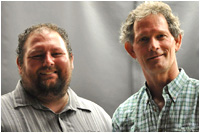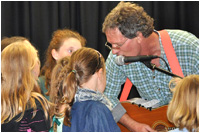 DARWIN – February 19-20, 2011:
After the Queensland floods, kind-hearted people in Darwin wanted to help by raising money
The Tracey Village sports Club in suburban Darwin organised for me to play a show there, with all proceeds going to Flood Relief.
It was a ripper Sunday afternoon, and included a duet with local Country Music singing star Yuliana Pascoe.
The Tracey Village Footy Club also had me perform at their presentation night on the Saturday evening.
We also attended an inspiring pre-game local football lunch, which celebrated the careers of eight indigenous Territory legends. Each player was interviewed, and each of their stories was riveting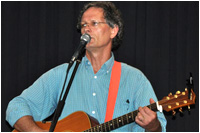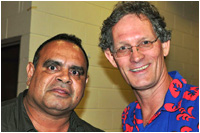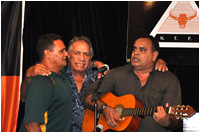 MAFFRA/SALE – November 22, 2010:
The historic Duart Homestead in Maffra was the spot for an annual business function where I sang to a lovely group on Nov 22. The homestead has a large performance room with crimson curtains and chairs set out theatre style.
Again I sang for an hour, to a crowd of mainly local farmers and retirees, which makes for an excellent audience to sing to.
In all my travels, i'ts hard to think of a much nicer engagement than this one was. And the homestead accommodation back in Sale, capped it off as 'the gig from heaven'.
Bon Accord homestead was a magnificent B&B experience.
LAUNCESTON – November 21, 2010
Two racetrack gigs in two days: Launceston racetrack played host to the huge Roberts Ag. Supplies annual Family Fun Day on Nov. 21.
Another fine spring day greeted us and I sang outdoors for around an hour – until Santa came. Hundreds of kids played on the fairground attractions. What a top day out.
HEALESVILLE – November 20, 2010:
The first and hopefully annual Healesville Music Festival was held at the racetrack on Nov 20.
Some of this country's best-regarded folk/country artists performed: Shane Howard,
Bushwackers, Pete Denahy, Damian Howard, Mick Thomas…
Surrounded by lush mountains on a beautiful late spring day, it was a treat to play at.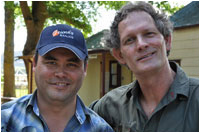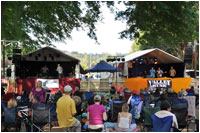 GOLD COAST – November 17, 2010
The AFL Industry Conference and Draft was held at Royal Pines, Carrara, Nov. 17, and I was pleased to sing at the dinner.  The entire AFL world was there: every executive of the League and each club, plus all key media.
I even sang my meanest Pies songs with Eddie sitting almost right in front of me.
He seemed to take it well.  I got away with some pretty provocative songs that night.
NEW CD RELEASE SEPTEMBER:
We released a new footy songs CD in September. This one is different to all prior ones, being 50 live songs straight from the Coodabeens show, and all about one minute long. On air performances, without any doctoring – sung between 2007 and now. Just the ditties as they went to air, with a little banter from the other Coodabeens.
The CD landed in "Jimmy Bartel" Hi-Fi Stores on friday Sept. 10. Look fir it in ABC stores also. We can also post it, if you click on this link.